March 30, 2020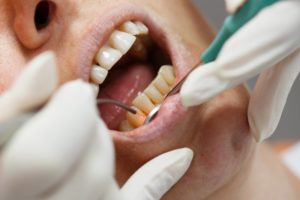 According to the Centers for Disease Control and Prevention, one out of every two adults in the United States suffers from the uncomfortable and drastic effects of gum disease. Fortunately, there's a way to ease your pain and stop these symptoms in their track with highly advanced periodontal therapy in Parma Heights. Read on to find out the benefits of using laser dentistry to improve your dental health by treating gum disease.
What is Laser Dentistry?
Laser dentistry is exactly what it sounds like, the use of precise dental lasers to treat several dental problems, including hypersensitivity, tooth decay, and gum disease. This field of dentistry first became commercially used for procedures in 1989. Since then, the technology has progressed, making laser dentistry more versatile, accurate, and effective.
LASER is actually an acronym that stands for "light amplification by the stimulated emission of radiation." The instrument itself releases a highly powered beam of light that can remove and shape tissue. It has also been approved by the FDA to be used to treat a variety of dental problems, including gum disease.
What are the Benefits of Treating Gum Disease With Laser Dentistry?
When you visit your dentist in Parma Heights, they will examine your gums and form a gum disease treatment plan based on the symptoms you're showing and how advanced your condition is. As opposed to treatments offered by other dentists who aren't as up-to-date with technology, you'll be able to benefit immensely from visiting a dentist who uses laser therapy to treat gum disease. Some advantages you'll be able to enjoy include:
No cutting or need for sutures.
Less discomfort due to the non-invasive nature of laser dentistry.
Shorter procedure due to the precise and accurate nature of the laser.
Better, longer-lasting results.
Fewer diet restrictions.
Shorter recovery time, sometimes less than 24 hours!
Safe for all patients.
Why is it Important to Stop Gum Disease Early?
It's important to visit your dentist in Parma Heights every six months so they can conduct an in-depth examination of your gums. By doing this, they'll be able to spot the early signs of gum disease, such as bleeding, tenderness, and swelling, and develop a treatment plan to reverse the symptoms. As the disease advances, it can have permanent effects on your oral and overall wellbeing, causing problems such as tooth loss, high blood pressure, and even increasing your risk of developing heart disease.
When you invest in seeing a dentist who uses the latest technology in dentistry, you'll be able to enjoy a variety of benefits besides just the ones listed above. With timely, efficient, and highly effective gum disease treatment with dental lasers, you can put your mind at reset knowing that your mouth will be healthier than ever.
About the Author
Dr. Caroline Salib has been practicing dentistry for years, and is passionate about helping her patients optimize their oral health and maintain healthy and beautiful smiles for decades to come.. She regularly completes advanced education, including courses in laser dentistry to treat gum disease. By using the latest techniques and technology in the dental world, she hopes to provide her patients with long-lasting and highly effective dental treatments that they can count on. For questions or to schedule an appointment, visit Advanced Dental Center's website or call 440-885-5354.
Comments Off

on Advanced Laser Therapy: The Key To Defeating Gum Disease
No Comments
No comments yet.
RSS feed for comments on this post.
Sorry, the comment form is closed at this time.