Dental Implants – Parma Heights, OH
Next-Level Tooth Replacement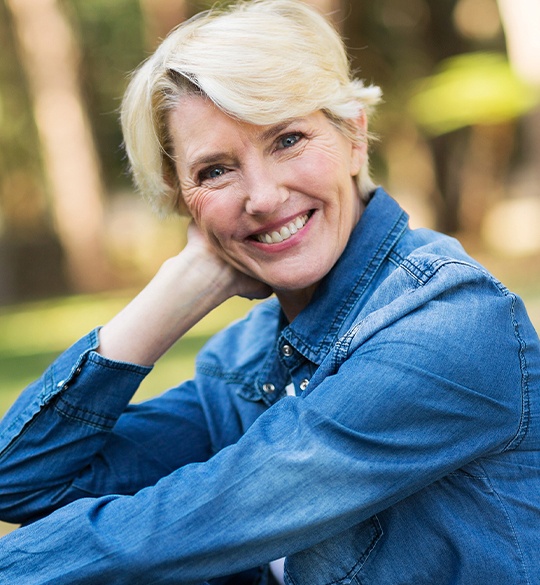 Are you tired of dealing with your missing teeth every single day? Ready to stop missing out on your favorite foods, slurring simple words, or hiding your smile? If so, dental implants in Parma Heights, OH may be the answer. The most comprehensive tooth replacement available today, implants basically allow patients to get their original smile back using highly-advanced materials and state-of-the-art techniques. At Advanced Dental Center, we can perform the entire implant procedure from start to finish right here in our Parma Heights dental office, meaning you'll be able to rebuild your smile as quickly and effectively as possible. To learn more and schedule an in-person consultation, contact us today.
Why Choose Advanced Dental Center for Dental Implants?
Full-Service Care in One Convenient Location
Latest Technology Delivers Beautiful Results Quickly
Replace Any Number of Teeth for a Lifetime
Benefits of Dental Implants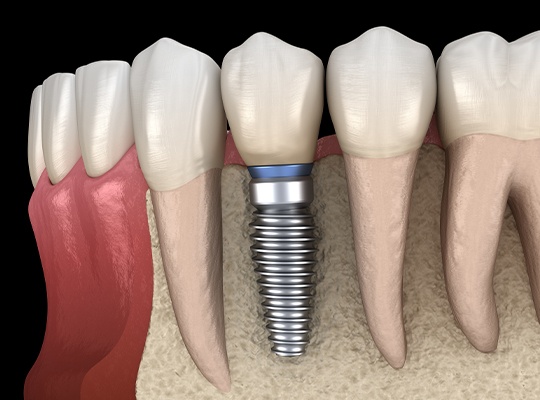 What makes dental implants different from other treatments is that a patient's new teeth are connected directly to the jawbone using new titanium tooth roots instead of just sitting on top of the gums. This more closely mimics the natural dental structure and offers outstanding durability and functionality when eating and speaking. The benefits of dental implants in Parma Heights far outweigh other, more traditional tooth replacement options (i.e., dentures, fixed bridges) and make it possible for individuals like yourself to enjoy a better quality of life.
Some of the most common advantages of dental implants include:
Lifestyle Benefits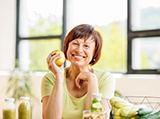 You won't have to worry about eliminating certain foods from your diet because your implants will be firmly in place, allowing you to enjoy even hard, crunchy foods, which can be harder for dentures or fixed bridges to cut through.
Your implants will blend into your smile beautifully, looking completely natural and fitting comfortably. You'll never be able to tell the difference between your real and artificial teeth.
Consuming your favorite hot beverage will never be a problem with dental implants. Unlike dentures that can become warped, your implants will remain fully intact and undeterred.
Eating and speaking are much easier because your implants are surgically implanted into your jawbone. This means you'll never have to worry about accidental slippage or having them fall out like dentures.
According to a study, Biting Into Denture Care, nearly 10% of people with fixed bridges and dentures say they avoid social situations. With dental implants, you can expect to enjoy social gatherings and fun with family and friends without worrying about your smile.
Health Benefits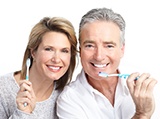 Unlike dentures that can cause your jaw and gums to be sore, dental implants will not irritate your soft tissues, allowing for a more enjoyable experience.
You'll save money on denture adhesives, cleaning solutions, and frequent repairs and replacements because dental implants act just like regular teeth. Not only can they last a lifetime with proper care, but you don't need to spend extra money on additional products to keep them clean. Your implant dentist in Parma Heights can explain what you need to do to ensure the health and longevity of your new smile.
Dentures and other traditional tooth replacements only sit on top of the gum line. As a result, they do not work to improve your oral health. Dental implants in Parma Heights, however, mimic the natural tooth structure, ensuring your jawbone remains stimulated each time you chew or bite down. This helps to prevent facial collapse and offers a more youthful, vibrant appearance.
Long-Term Benefits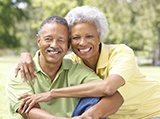 In most cases, you can expect a 90-95% success rate after 10 years with dental implants!
You can enjoy a superior method of tooth replacement that is designed to last a lifetime, unlike traditional dentures and fixed bridges that require replacing after several years.
According to Dentistry Today, individuals who lost 5 or more teeth by the age of 65 were at a greater risk for cardiovascular disease, diabetes, and osteoporosis. However, you can reduce your risk with dental implants.
Because it is believed that your lifespan is connected to how many teeth you have, it is in your best interest to pursue dental implants to replace your missing teeth because of their ability to mimic the natural tooth structure.
Indications for Dental Implants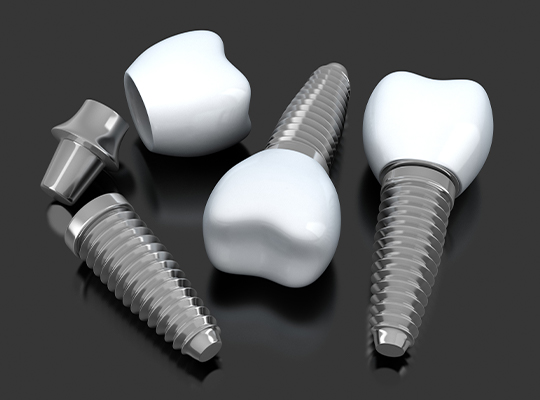 One of the best things about dental implants is their versatility. No matter how many teeth you might be missing, our team can use implants to rebuild your smile and confidence at the same time. After giving you an exam, your dentist will recommend one of the following solutions: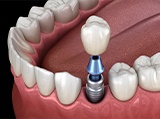 Missing Single Tooth
A dental implant root is placed into the jawbone between two healthy teeth and topped with a porcelain crown. This approach is actually more conservative versus getting a traditional bridge because the nearby teeth don't have to be altered to make room for the prosthetic.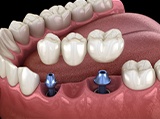 Missing Multiple Teeth
Bridges and partial dentures can have a tremendous amount of stability when dental implants are used to hold them in place. This not only makes these prosthetics more reliable but more durable as well.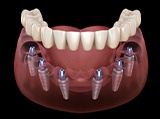 Missing All Teeth
Even patients with extensive tooth loss can benefit from dental implants. It only takes four to six titanium roots to secure a full denture to the jawbone and replace an entire row of teeth at once. Implant-retained dentures typically fit more comfortably than traditional ones while also offering a much stronger bite.
Start-to-Finish Convenience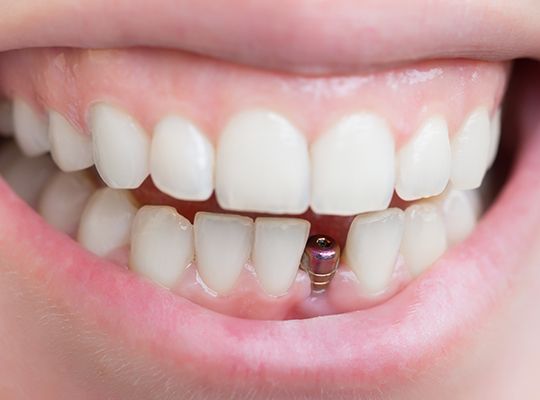 If you go to your average dental office for dental implants, they'll more than likely send you to multiple specialists to actually have the procedure completed. Instead, at Advanced Dental Center, we're able to complete every phase of the treatment in our Parma Heights dental office so you can save time and stress while you recover your smile. Our dentists have undergone special training when it comes to placing and restoring implants, meaning you'll enjoy the best when it comes to both speed and quality.
Understanding the Cost of Dental Implants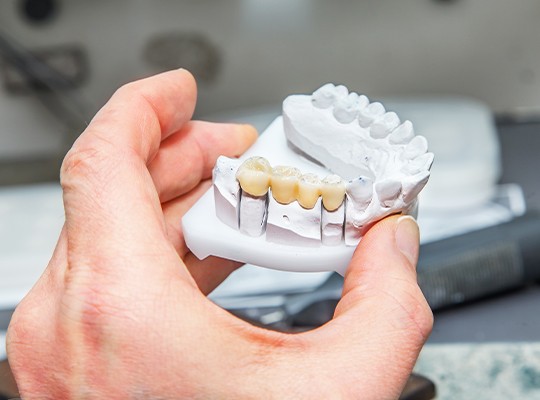 Because tooth loss can vary so much from person to person, every dental implant treatment we provide has to be completely customized to meet the needs of a patient. This means the number of implants used, their location, and the type of restoration needed is always different, so the cost of dental implants in Parma Heights is always unique as well. While implants can certainly be a large investment, they are intended to last for decades, and they often help patients save money in the long run. Additionally, our practice offers a number of provisions to help you afford treatment.
Preliminary Treatments & Dental Implant Surgery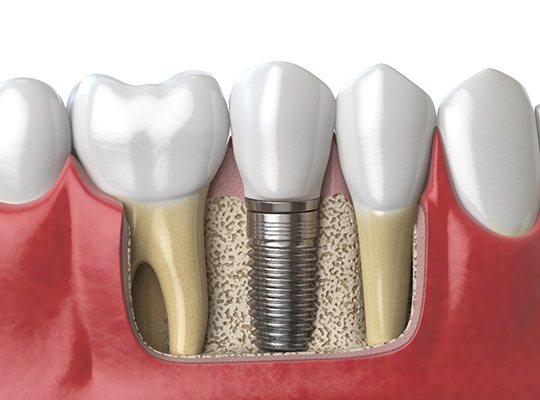 Many patients require preliminary treatments, such as a bone graft or gum disease therapy, before they can get dental implants in Parma Heights. Each of these services comes with its own fee. The implant placement surgery has a separate cost, which depends on how many implants are being placed and other factors. Our team has all the skill necessary to place implants in-house, so you will not have to worry about getting to know the pricing policies of an outside practice.
The Parts of Your Dental Implant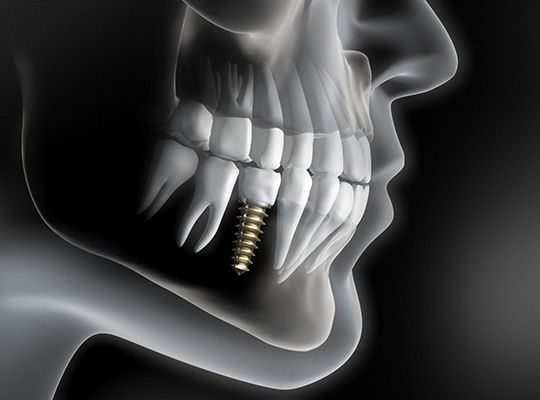 There are many factors that contribute to the final cost of your treatment. For example, dental implants come from various manufacturers. They come in different sizes and may be made out of a range of materials. You will also have to pay for a restoration, the cost of which depends on the materials used to make it as well as its size. If you qualify for more than one type of dental implant treatment, we will be sure to help you understand the pros, cons, and cost of each of your options.
How Dental Implants Can Save You Money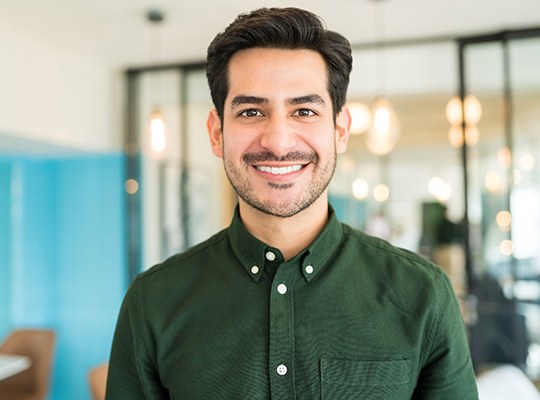 Once your mouth has fully recovered and you've received your dazzling restorations, you'll quickly understand why dental implants are worth the investment. Your new teeth will be stronger than they would be without implants, and they may prevent some oral health issues that would be costly to treat. Generally speaking, dental implants can last for many decades or even a lifetime. This means there is less of a chance that you'll need to pay for replacements in the future and you may ultimately save money in the long run.
Does My Dental Insurance Cover Dental Implants?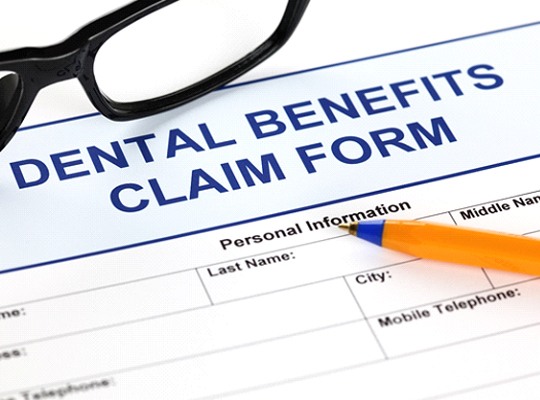 Oftentimes, dental insurance won't pay for the implants themselves. However, you can often receive benefits to cover other parts of the procedure, such as the restoration or the initial consultation. We're always happy to help you review your insurance plan so that you have a very clear idea of what you can expect to receive coverage for. We'll also file claims on your behalf and do everything we can to help you maximize your benefits. We are even in-network with several major insurance plans.
Making Dental Implants Affordable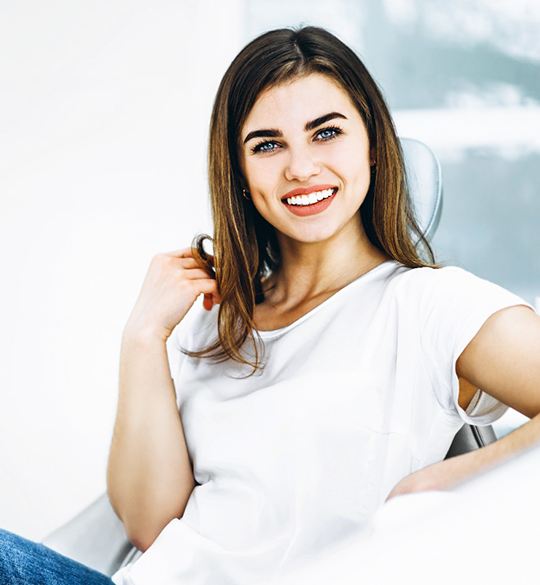 As your implant dentist in Parma Heights, we want you to be able to afford your new smile! In addition to helping you with insurance, we can also:
Assist you in applying for financing through CareCredit. CareCredit offers a variety of low-interest and no-interest monthly payment plans.
Sign you up for our in-house membership plan that offers a significant discount (20% - 30% on average) on virtually all of our services, including dental implants.
Give you a $500 discount on a single dental implant. This is a great deal for patients who need to replace just one tooth!
Dental Implant FAQs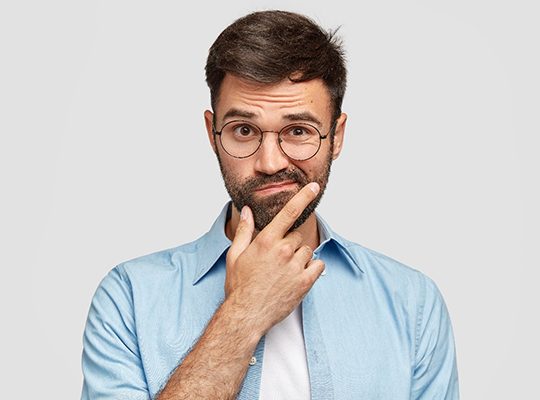 If you're interested in next-level tooth replacement with the help of dental implants in Parma Heights, give Advanced Dental Center a call! Choosing to rebuild your smile from the roots up with dental implants is an investment that will benefit your confidence, health, and quality of life for decades to come. Below, you'll find answers to a few of the most common questions we get about this state-of-the-art treatment so you can make an informed decision. If you would like to know more or would like to schedule a consultation, don't hesitate to give us a call!
How Long Do Dental Implants Last?
Traditional tooth replacement options like dentures and dental bridges wear down and lose their fit over time. On average, these restorations need to be replaced every five to seven years, which can become both inconvenient and pricey. One of the best benefits of dental implants is their vastly improved lifespan. This modern tooth loss solution is designed to last 30 years or more. In fact, with the right care, most patients enjoy their dental implants for a lifetime!
What's the Best Age to Get Dental Implants?
Practically anyone who is over the age of 18, missing at least one tooth, and is in good health should consider dental implants! Tooth loss can happen at any age, and can cause crooked teeth, poor oral health, and difficulty chewing. No matter how old you are, these problems can negatively impact your quality of life! Plus, there is no upper age limit to get dental implants: patients in their 80s, 90s, and more have successfully restored their smiles with dental implants! The best age to get dental implants is not long after you've lost a tooth.
Does Getting Dental Implants Hurt?
While getting dental implants requires minor surgery, it's a relatively pain-free procedure. Since we offer start-to-finish convenience for dental implant treatment, you won't have to worry about traveling across town to have an unfamiliar specialist place your dental implants. Our talented team here at Advanced Dental Center will be with you every step of the way, from your consultation to placing your brand-new teeth! We use reliable numbing medication and dental sedation techniques to ensure you are as comfortable as possible during your dental implant placement surgery.
Can I Eat Steak with Dental Implants?
Patients with traditional dentures and bridges often begin to avoid foods like steak, apples, and nuts. However, dental implants are securely embedded into the jawbone and can restore 80% or more of your natural biting force! Once your new teeth are in place, you should be able to enjoy practically all your favorite foods once again.
Can Missing Front Teeth Be Replaced with Dental Implants?
Missing one or more front teeth can dramatically impede your ability to smile confidently and eat comfortably. Thankfully, dental implants can replace any number of missing teeth anywhere in the mouth. In fact, they're an ideal choice for missing front teeth! Their unmatched aesthetics will ensure that your smile is seamlessly natural-looking, and their durability ensures that you can bite into your food with complete confidence.