Veneers – Parma Heights, OH
We Can Instantly Mask Your Smile's Imperfections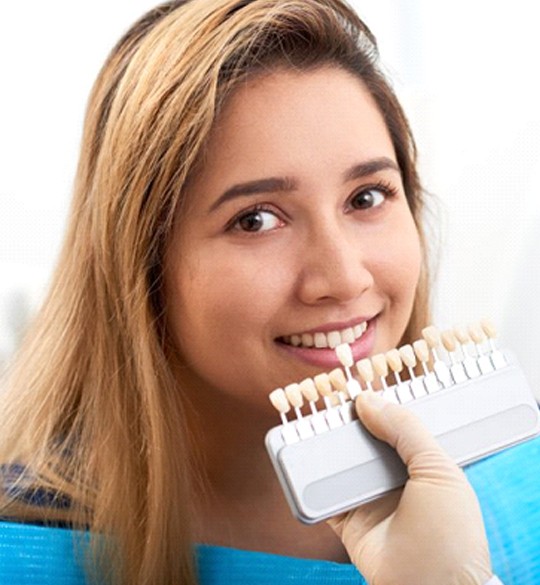 Whenever you're watching your favorite movie, TV show, or music video, it's hard not to envy all of the stars who seem to have effortlessly flawless teeth. You might think that only the rich and famous can afford to have such perfect pearly whites, but you'll be pleased to know that's actually not the case. With dental veneers in Parma Heights, OH, our team at Advanced Dental Center can give you a grin that's fit for the red carpet – without the Hollywood price tag! Contact us today to learn more about how we can instantly mask your smile's imperfections in just two appointments with veneers.
Why Choose Advanced Dental Center for Veneers?
Team Led by Two Experienced, Caring Dentists
Lifelike Materials That Produce Dazzling Results
Treatments Fully Tailored for Each Patient
What Are Dental Veneers?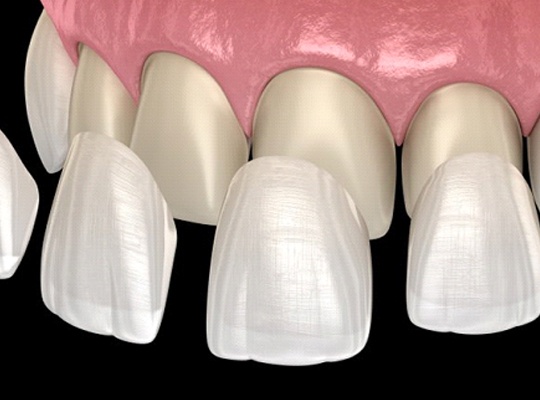 A veneer is a thin covering that is attached to the front surface of a tooth, concealing all of its flaws in one fell swoop. Veneers are typically made of dental porcelain, which is not only more stain-resistant than tooth enamel, but it can also be customized to mimic the exact shade of your pearly whites.
Because they cover the entire front side of a tooth, veneers are remarkably versatile. They can be used to correct stubborn stains, chips, and gaps while also building up a misshapen tooth. You can even use veneers to make your teeth look straighter without having to wear braces or aligners, which is why veneers have earned the nickname "instant orthodontics."
The Process of Getting Veneers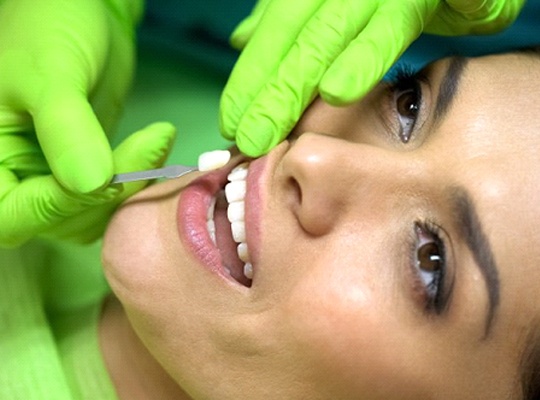 After an initial consultation with either Dr. Salib or Dr. Shtarkman, the veneers process can usually be completed in just two visits to our dental office. The first of these appointments involves preparing your teeth to receive the veneers. The teeth are cleaned, and a sliver of enamel is carefully removed to ensure the veneers fit comfortably within your smile. We capture digital impressions of your teeth and send the data to a trusted dental lab. It can take a few weeks for the lab to craft your veneers to the exact size, shape, and color that you desire.
While we wait for your veneers to arrive at our office, we can attach temporary veneers to protect your teeth and let you get an idea of how your new smile will look. Once the final veneers are here, simply return to have them bonded into place.
The Benefits of Veneers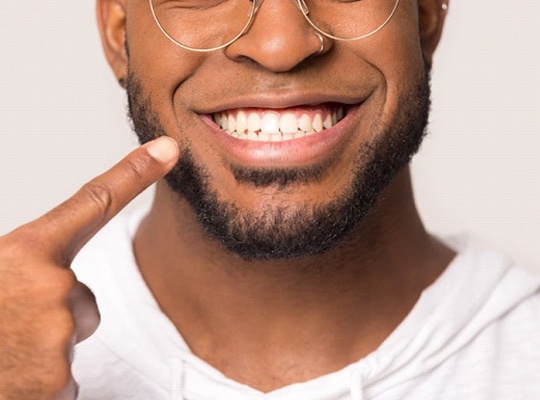 If you ask your cosmetic dentist in Parma Heights why veneers have become so popular, you'll learn it's because of the many benefits they offer:
Versatility – Multiple aesthetic flaws can be fixed at the same time.
Natural appearance – Each veneer is personalized to complement your facial features and resemble your home-grown pearly whites.
Confidence boost – When your smile looks perfect, you'll exude a confidence that makes others want to be around you.
Durability – With the right oral hygiene, veneers can easily last for 15+ years.