March 12, 2018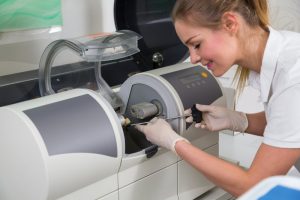 Whenever you think of a crown, you can't help but visualize royalty. When in comes to your teeth, the mental image that this word creates is actually rather accurate because the crown does hold significance that is of monarchical importance. Just like the king and queen represent their subjects, your crown represents the rest of your teeth – the hidden parts – embedded in your gums. Thus, it must be protected and cared for, which is why your local dentist offers a sure and convenient way to restore it – CEREC in Parma Heights. As you continue reading, you'll learn more about this method and how it works.
What is a CEREC Crown?
The Chairside Economical Restoration of Esthetic Ceramics (CEREC) method of restoring your crown offers convenience and aesthetics all woven in one. The typical process for receiving a crown, the portion of the tooth the sits above the gum line, is a two-visit procedure. At the first appointment your dentist will address the tooth decay or damage to the cap by filling or building up the tooth in preparation for a new one. He will also take an impression of your teeth so that a new crown can be fabricated at a lab in his or her network. You will return later to have the new crown fixture placed.
The CEREC method bypasses the waiting and eliminates the second appointment, because while visiting your dentist to address decay or damage, you'll also receive your dental crown in Parma Heights.
The following details how the CEREC method works:
Impression – The process begins with your dentist taking an impression of your teeth.
Design Using CAD/CAM – He'll then use that impression to design your new crown with the assistance of computer-aided design (CAD) and computer-aided manufacturing (CAM).
Milling – When the design is finished, the specifications will then be sent to an in-office milling machine that will create your new CEREC crown.
Placement – After the crown is complete, the final step is to place it in its rightful place.
In one visit, your tooth is restored!
How to Protect Your CEREC Crown
Not only will your new CEREC crown look like a natural tooth, it will function like one as well. That means that the same rules apply to protect it.
Here are a few to keep in mind:
Oral Hygiene Still Matters – Although your new CEREC crown will be strong, it will not make your tooth indestructible. It is still prone to decay, so oral hygiene is remains of the utmost importance. Your top two practices should be brushing and flossing at least twice a day remove harmful bacteria.
Your Teeth Aren't Tools – It's important to remember that your teeth function to help you eat food, pronounce your words and maintain the integrity of your facial structure. They aren't tools. Although it may be convenient to use them to open a stubborn bottle cap or a bag of chips, this could be a recipe for disaster.
Be Careful What You Eat – You also want to be mindful of the types of edibles you consume. Hard candies can be detrimental not only because of their sugar content – but also because of the pressure they put on your crown.
Just when we think the field of dentistry has discovered all that it can in ways to deliver better services, something new emerges. CEREC is an example of that. To take advantage of this amazing new way to enjoy improved quality and convenience, just reach out to your local dentist today!
About the Author
Dr. Glenn Shtarkman earned his Doctor of Dental Medicine degree from Case Western University's School of Dental Medicine. He then went on to become a board-certified dentist and has since notched over 12 years of experience with special emphasis on cosmetic dentistry, implants and CEREC care. He practices at Advanced Dental Center and can be reached for more information through his website.
Comments Off

on Crown Me! The Steps for Receiving CEREC in Parma Heights
No Comments
No comments yet.
RSS feed for comments on this post.
Sorry, the comment form is closed at this time.