February 27, 2021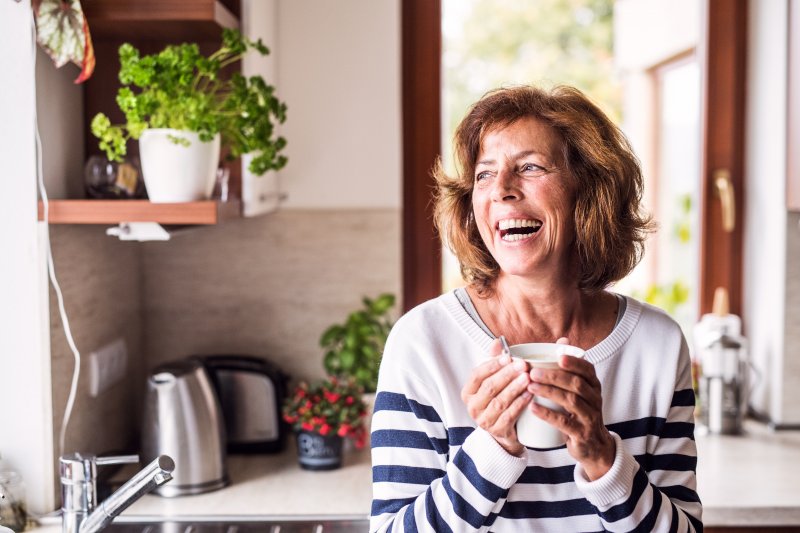 If you are struggling with advanced tooth loss, then you know that your smile isn't the only thing that suffers when you are missing several teeth. Your confidence, bite, and even your speech can be compromised as well. Fortunately, modern dentures can seamlessly fill the gaps in your smile with lifelike prosthetic teeth. Implant dentures take this tooth-replacement option a step further, combining the tried-and-true dentures patients love with the state-of-the-art titanium posts used with traditional dental implants. If you are considering making the switch, but aren't sure if you should, then keep reading!
The Drawbacks of Traditional Dentures
According to historians, dentures have been in use since the 1700s! Luckily, dentures have come a long way since then, leaving behind out-of-date materials (like animal bones) and opting for high-quality porcelain instead. However, there are a few drawbacks that this smile-rebuilding solution hasn't been able to overcome, like unwanted movement and slippage. Unfortunately, this can lead to embarrassment while speaking, laughing, and chewing. Luckily, that's where implant dentures come in!
How Implant Dentures Work
Implant dentures are where dentures and dental implants intersect. In this procedure, titanium posts are strategically placed throughout the mouth. Once the post and your jawbone have fused together (which is called osseointegration), your partial or full denture will be anchored to the top, ensuring maximum durability and minimal movement. Plus, there are a number of benefits that are exclusive to dental implants.
The Benefits of Implant Dentures
If you are still unsure if you should make the switch, here are a few priceless benefits of opting for implant-retained dentures:
Preservation of your jawbone (which helps keep your youthful facial structure intact).
No frequent adjustment appointments.
20+ year lifespan.
Hassle-free oral care.
If you are struggling with advanced tooth loss, then implant dentures may just be the solution you've been looking for to effectively restore your smile, bite, and speech. Get in touch with your dental team today to find out if you are a candidate!
About the Practice
Led by Dr. Glenn Shtarkman and Dr. Caroline Salib, our team is united behind our mission to use the latest in proven dental technology and our patient-driven approach to care to help patients of all ages achieve their smile goals. If replacing one or more missing teeth is what it takes to make that happen, you'll be happy to know we can perform the entire dental implant procedure in-house at Advanced Dental Center – no referrals necessary! If you are interested in finding out if you are a good candidate for implant dentures or have any questions pertaining to this smile-rebuilding service, don't hesitate to visit our website or give us a call at 440-885-5354.
Comments Off

on Does Attaching My Dentures to Dental Implants Really Make a Difference?
No Comments
No comments yet.
RSS feed for comments on this post.
Sorry, the comment form is closed at this time.