February 29, 2020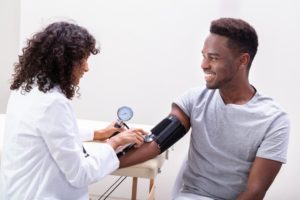 According to the Centers for Disease Controls and Prevention, gum disease is one of the top three oral health problems that Americans suffer from. It's a quickly developing infection that can cause serious permanent damage down the road, but the mouth isn't the only part of your body that it impacts. According to several studies, gum disease in Parma Heights can also cause high blood pressure when it's left untreated. Read on below to learn how to spot the signs and what the research says.
What are the Signs of Gum Disease?
Gum disease becomes a dangerous condition when it's not diagnosed and left to progress, causing more advanced and permanent damage to your mouth down the road. That's why it's important to visit your dentist every six months for a routine checkup and cleaning. This appointment will allow your professional to spot the signs early, so they can diagnose and treat the issue as soon as possible, reducing your risk of developing any additional problems down the line. Here are some signs that they look out for during your examinations:
Red, swollen, tender, or bleeding gums.
Chronic bad breath.
Receding gums that make teeth look longer.
Small pockets of bacteria and plaque built-up between the teeth and gums.
Loose or shifting teeth.
Permanent tooth loss.
What is the Connection Between Gum Disease & High Blood Pressure?
A study conducted in the United States looked at nearly 12,000 U.S. adults' healthy surveys that completed dental exams between the years 2009 and 2014. The goal was to gain a deeper understanding of why about one in three adults is living with high blood pressure, and only half are treating and controlling their condition. What they found was that participants with gum disease had about 2.3-3mmHg higher systolic blood pressure than patients with completely healthy gums. They also found that the more advanced the gum disease was, the higher likelihood that blood pressure treatment would fail.
How Can You Treat Gum Disease?
The key to ensuring your overall health and safety is to visit your dentist every six months to catch gum disease signs while they're less serious. That way, they can develop a customized gum disease treatment plan, including a deep cleaning, antibiotic therapy, or laser therapy. These will reduce the symptoms and, if caught early enough, completely reverse the effects the disease has on your mouth.
Being vigilant about your oral health means that you're also being mindful of your physical health as well. Both gum disease and high blood pressure are serious conditions among many adults, but with regular care and early treatment, you can preserve your smile and overall wellbeing, allowing you to live every day worry-free.
About the Author
Dr. Caroline Salib has been practicing dentistry for years and is passionate about putting her patients' comfort and health first. She continuously advances her studies to stay up-to-date with the latest techniques and technology that the dental world has to offer. She has specifically taken courses on the use of dental lasers, which can be used to treat the harsh and advanced effects of gum disease. For questions or to schedule a checkup and cleaning, visit Advanced Dental Center's website or call 440-885-5354.
Comments Off

on How Can Gum Disease Impact Your Blood Pressure?
No Comments
No comments yet.
RSS feed for comments on this post.
Sorry, the comment form is closed at this time.