September 9, 2019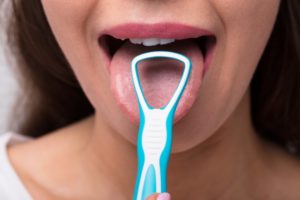 Picture this: you're meeting up with someone for the first time in awhile. When you see them, you can't help but become overwhelmed with excitement and hug them. When you move away and start talking, your breath wafts through the air and hits them, causing them to crinkle their nose and take a step back. Chronic bad breath isn't just incredibly embarrassing to handle, but it can also result in other oral health consequences. Read on to learn how to clean your tongue safely to restore your minty fresh breath and avoid conversations where people can't wait to step away from you.
What Causes Bad Breath?
There are countless oral health problems and factors that can cause bad breath. Whether it occurs on occasion or chronically, it's always embarrassing. It can be affected by the foods you eat, poor oral hygiene habits, or even diseases.
The surface of your tongue is lined with tiny sticky bumps called papillae. It's what makes your tongue rough to the touch. They're covered in taste buds that help distinguish sweet, sour, bitter, and salty foods. Luckily, your saliva is able to wash away the debris after you chew and taste what you're eating, but some residual waste could be left behind to rot and attract harmful oral bacteria. They release a sulfur-smelling waste that can cause you to have bad breath.
How Can Cleaning Your Tongue Help?
Everything you taste comes into contact with the sticky papillae on your tongue. If debris isn't regularly removed by drinking water, saliva, cleaning your tongue, and brushing your teeth every day, then it will cause a buildup of smelly harmful bacteria. Each time you brush and floss your teeth, you're limiting the accumulation of these and warding off oral health problems that could also lead to chronic bad breath like gum disease.
What are the Best Tongue-Cleaning Techniques?
Cleaning your tongue after you brush your teeth is an easy step to take to prevent your breath from smelling. It's important to clean it at least twice a day to remove any food particles that have attached themselves throughout the day. You can either use a regular toothbrush or a tongue scraper, which you can easily find at your local drugstore. After you clean your teeth, be sure to remove the odor-causing buildup of food and bacteria by brushing the entire surface of your tongue using only a small amount of pressure and a dab of fluoride toothpaste. If you're using a tongue scraper, run the device down your tongue from back to front, rinsing it under warm water after each swipe.
With good oral hygiene, you can manage the accumulation of harmful substances in your mouth that cause oral health problems. Also, be sure to visit your dentist every six months for a checkup and cleaning to find out whether your bad breath is being caused by more serious problems like gum disease.
About the Author
Dr. Glenn Shtarkman has 12 years of experience as a general dentist and completed a one-year residency. He focuses on providing every one of his patients with high-quality preventive dental care that helps them avoid developing serious oral health problems. By diagnosing and treating problems while they're still small, he can save his patients time and money down the road. For questions or to schedule a routine checkup and cleaning, visit Advanced Dental Center's website or call 440-885-5354.
Comments Off

on Do You Suffer From Bad Breath? Here's How You Can Fix It
No Comments
No comments yet.
RSS feed for comments on this post.
Sorry, the comment form is closed at this time.