May 6, 2021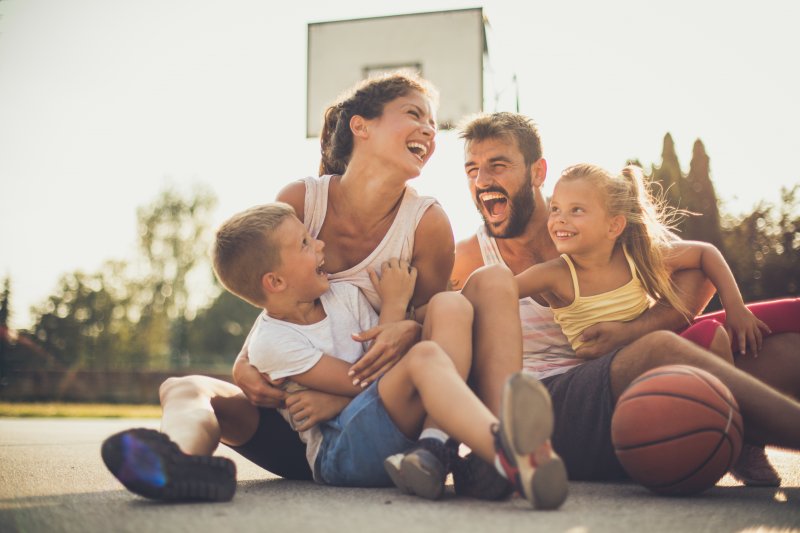 Summer is the season of leisure and recreation. Everyone has something they're excited to do whether it's eating a popsicle at a backyard barbecue, sipping on iced lemonade at the beach, or swimming at the local pool.
While there are many adventures to look forward to, your dental health should not be forgotten amidst all the fun. Read on to learn a few ways you can protect your smile during the warmer months.
Be Sure to Wear a Mouthguard
This time around, most people want to spend their days outdoors, soaking up the summer sun and enjoying the beautiful weather. However, many of the physical activities we enjoy put us at risk of injuries to our mouth, teeth, and gums. Sports like basketball, hiking, skateboarding, swimming, biking, and much more can result in a damaged smile if the proper precautions aren't taken.
If you're going to partake in an activity where you risk falling or sustaining a hit to your face, use a mouthguard to protect your teeth and minimize damage if an injury were to occur. They can be purchased at most sporting goods stores or can be custom-made to fit your teeth perfectly. With a proper-fitting mouthguard, you can comfortably and safely join in all the fun.
Limit Sweet Drinks
As the weather gets warmer, people tend to crave delicious, ice-cold drinks. Lemonade, sweet tea, sports drinks, and soda may all sound like refreshing beverages, but they contain extreme amounts of sugar that can damage your oral health. Excessive consumption can lead to tooth decay, cavities, and even increase your risk of heart disease and diabetes.
The best method for preventing dental damage is to choose water whenever possible. Of course, cutting out sugary drinks may sound completely unimaginable to most people, so the good news is, it's okay to indulge in moderation. To protect your teeth, minimize contact by using a straw or by drinking it quickly. Make sure to thoroughly rinse your mouth afterward to wash away any residual sugars.
Be Careful with Cold Treats
Snow cones, popsicles, and ice cream are all traditional summer snacks. They may be a delicious way to cool down in the hot weather, but they can cause discomfort if you have sensitive teeth. Tooth sensitivity is often an indication of cavities or exposed tooth roots.
If you've never experienced this sensation before, make sure you seek treatment as soon as possible before the condition worsens. Your dentist can determine the cause of your sensitivity and help you treat the problem to alleviate your discomfort.
Don't end your summer with a damaged smile! Use these tips so you can enjoy all your favorite seasonal activities while maintaining a strong, healthy mouth.
Meet the Dentists
Dr. Glenn Shtarkman and Dr. Caroline Salib are experienced dentists who strive to create lasting relationships with each patient. They offer a positive and comfortable atmosphere patients of all ages can enjoy at Advanced Dental Center. Dr. Shtarkman and Dr. Salib bring a combined 25 years of experience in dentistry and provide quality and affordable dental services. For more tips on how to protect your summer smile, visit our website or call (440) 885-5354.
Comments Off

on Watch Out! These Summertime Activities Can Harm Your Smile
No Comments
No comments yet.
RSS feed for comments on this post.
Sorry, the comment form is closed at this time.