June 7, 2019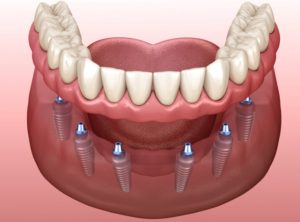 Dentures can be life-changing, but they can also be a hassle. They might become loose in your mouth while speaking and chewing, and they often need to be adjusted due to changes in your jaw; there's also a risk of breaking them whenever you take them out for cleaning. Fortunately, there's a much more convenient solution. Here are 3 benefits of getting dentures in Parma Heights that are supported by dental implants.
1. They're Much More Stable
Dental implants are surgically inserted into the jaw and are naturally fused with the bone through a process called osseointegration. A denture that is attached to implants is much more secure and stable than a denture resting directly on the gumline. You won't have to deal with denture adhesive or worry about your teeth shifting out of place while talking and causing embarrassing problems.
While some implant-supported dentures are removable, others are permanently fixed in the mouth. This means you won't have to worry about losing or dropping them during regular cleanings; you can just use a toothbrush and dental floss to take care of them like you would your natural teeth. Not only is this more convenient and safer for your appliance, but it also means you won't need to spend extra money on denture cleaner.
2. They're Better for Your Jaw
While traditional dentures allow you to eat and speak, they don't fully make up for the lack of natural teeth. Your jaw needs the stimulation of chewing in order to remain strong. Since dentures normally rest on the gumline, they can't provide this stimulation; as a result, over time the jawbone will begin to atrophy, which leads to wrinkles around the mouth, thinning of the lips, and weakened facial muscles.
With implants, the jaw will be able to reap the benefits of chewing, keeping the bone strong and helping you to retain a younger look. Furthermore, while bone loss can cause your dentures to become ill-fitting over time, implants allow you to avoid this issue entirely.
 3. They Provide Better Chewing Ability
Because implant-supported dentures are anchored in your mouth, the chewing strength they provide is almost equal to that of regular teeth. Unlike traditional dentures, you won't need to give up your favorite foods; you can eat what you want!
Before seeking implant-supported dentures, it should be noted that if bone loss has already occurred, there may not be enough jawbone for osseointegration to be successful. However, in some cases, bone grafts can be used to add enough height to the jaw in order to make implants viable. Talk with your dentist in Parma Heights about your oral health in order to figure out what tooth replacement option is right for you. Don't forget – if dental implants are available, they can be quite the upgrade for your dentures!
About the Author
Dr. Glenn Shtarkman has 12 years of dental experience. At Advanced Dental Center, he practices a philosophy of putting patients first and making a difference in their lives with quality service. He is skilled in many areas of dentistry, including implants and dentures. To schedule an appointment, visit the practice's website or call (440) 885-5354.
Comments Off

on Broken Dentures in Parma Heights? This Time, Try Implants
No Comments
No comments yet.
RSS feed for comments on this post.
Sorry, the comment form is closed at this time.