May 29, 2018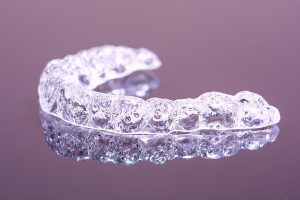 An improper bite creates two main dilemmas: poorly functioning teeth and smile imperfection. Thankfully, there are ways to correct such problems – with traditional braces and Invisalign in Parma Heights. But how can you choose which process to use? Your local dentist weighs in to answer that question by comparing the two forms of treatment and much more as you continue reading.
How Do Metal Braces Work?
Metal braces are considered the gold standard for correcting issues with misalignment, crowding, malocclusion and gaps in teeth. Its use of a metal wire that runs through brackets and forces teeth to move has been a sure way to fix smiles for years.
This form of treatment does present some functional and aesthetic issues for some people, though. They're bothered by the appearance of walking around with chunks of metal in their mouth. Thus, they may be more inclined to not have any work done at all, which is the worst thing that could happen.
Thankfully, there's an alternative.
Introducing the Invisalign Method
For those who desire a more discreet look, the Invisalign method is perfect. The process consists of a series of clear, plastic trays that are pre-designed and custom-made for you based on bite impressions and digital imaging. You'll wear each set of trays for a two-week increment and then discard them for the next set in the sequence.
Besides the discreet look afforded the patient, are there any other benefits to the Invisalign method?
Why Invisalign is the Best Option
The Invisalign method is the best route for correcting your smile flaws because of the following reasons:
Comfort – It is a much more comfortable process to use Invisalign clear trays than to wear metal braces, that use a wire to apply pressure to your teeth.
Time – Everybody's running short on time these days and looking to cut down where they can. It helps, then, that the Invisalign method can usually be completed in 10 to 15 months, whereas the traditional route averages around 24 months.
Functionality – When wearing Invisalign clear aligners, you'll be able to maintain your normal activities, which includes eating your favorite foods. That's because you can remove your aligners while you eat. As long as you wear your trays for at least 22 hours a day, you'll stay on track with adjusting your teeth.
Works for Your Teenagers Too – You can remember being a teenager and how self-conscious you were about your appearance. If you're a parent now, then you can ensure that your child's teeth are corrected without feeling like you're putting him or her through torture. The Invisalign process will allow him or her to have corrected teeth without having to feel like a spectacle because of wearing metal braces.
Oral Hygiene – A final benefit of wearing clear aligners is that you'll be able to practice oral hygiene with no drop-off in the quality of your cleaning. Thus, you can toothbrush and floss using your normal techniques.
The best place to start is with a consultation. This provides the space for you and the dentist to hash out the pros and cons of clear braces in Parma Heights and traditional braces. As summer approaches, this is the best time to schedule an appointment, especially for your child. Therefore, you can bring him or her in without feeling rushed.
To schedule your visit, reach out to your dentist today!
About the Author
Dr. Glen Shtarkman earned his dental degree from the Case Western University School of Dental Medicine. Since then, he has gone on to provide excellent care to his patients for over 13 years. No matter what your age is, you're invited to experience the joy of having a healthy and aesthetically pleasing mouth. Dr. Shtarkman practices at Advanced Dental Center and can be reached for more information through his website.
Comments Off

on What's Better – Invisalign in Parma Heights or Traditional Braces?
No Comments
No comments yet.
RSS feed for comments on this post.
Sorry, the comment form is closed at this time.