August 16, 2018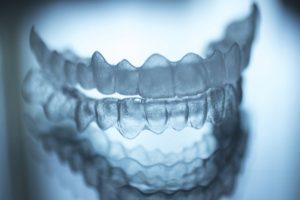 You've lived with bite issues long enough, so now it's time to experience smile perfection with Invisalign in Parma Heights. Before you receive your clear aligners, though, your dentist says it's important to know how to care for them. Read on to learn why Invisalign in Parma Heights is an excellent option and what to do to maintain them.
What are Invisalign Aligners?
Invisalign aligners are custom-made from BPA-free plastic. The clear trays come as a full series, each set designed to accommodate the position of your teeth at each stage of the treatment process.
Here are the steps to the procedure:
3-D Imaging – Your dentist will first take a series of 3-D images using advanced technology that will allow him or her to map out the entire treatment process.
Bite Impressions – Additionally, bite impressions will be taken, and along with the other data, they will be sent to a trusted lab that will fabricate the entire treatment set of clear aligners.
Retrieval – When your Invisalign aligners are ready, you'll be invited back to your dentist's office to retrieve them, and you'll also be given instructions to wear each set for two weeks and discard them for the next set in the series.
Once you pick up your full set of aligners, it's important to know how to care for them properly so you can get the maximum benefits.
Invisalign Maintenance
When caring for your aligners, keep these tips in mind:
Remove Them Before Eating or Drinking – Being able to remove your Invisalign aligners before eating may seem like a great perk, but it's actually a necessity. Eating or drinking (anything other than water) while wearing your aligners can damage them.
Clean the Aligners Regularly – If your aligners aren't cleaned on a regular basis, they can become like a petri dish, full of bacteria. Keep in mind that they fit snuggly against your teeth, which creates the perfect environment for bacteria growth. Thus, cleaning your trays regularly will guard against the related oral health problems.
Store Properly – It's important to never leave your aligners in a place like your car or anywhere else where they'll be exposed to heat. This could cause them to warp. Also, be sure to keep your trays dry and carefully secured so they aren't lost.
Avoid Soaking in Mouthwash – There are products designed specifically for cleaning your aligners, so be sure to never soak them in mouthwash. The coloring pigment found in them could stain your trays.
By keeping these tips in mind, you can enjoy a better experience with your Invisalign clear aligners and go on to have a beautiful smile. To learn more about the process, reach out to your cosmetic dentist in Parma Heights to schedule a consultation today.
About the Author
Dr. Glenn Shtarkman earned his dental degree from Case Western University's School of Dental Medicine. A board-certified dentist, he has over 12 years of experience providing excellent dental care. With cosmetic dentistry as one of his specialties, Dr. Shtarkman helps patients smile with confidence with Invisalign and can be reached for more information through his website.
Comments Off

on Your Dentist Explains How to Care for Invisalign in Parma Heights
No Comments
No comments yet.
RSS feed for comments on this post.
Sorry, the comment form is closed at this time.