May 21, 2020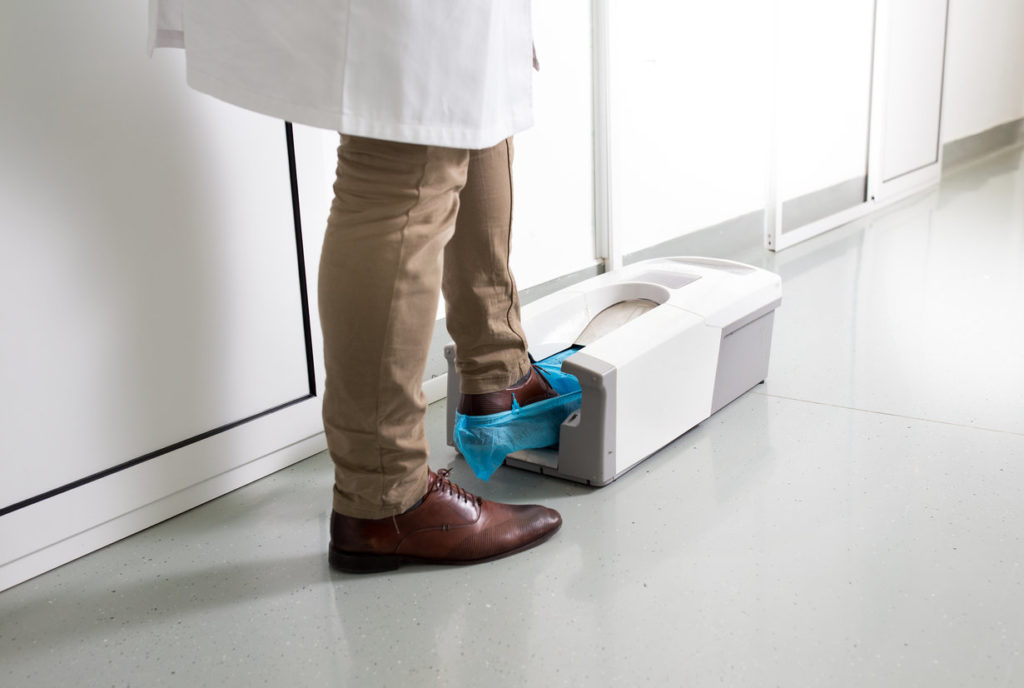 When talking about ways to stop the spread of COVID-19, people often focus on protective measures for their hands and face. However, a study published by the CDC indicates that the virus can be spread by footwear as well. Your dentist in Parma wants to keep patients safe, so they've started covering their shoes with plastic to further slow the spread of the virus. In this blog, you'll find out why your dentist is taking this precaution and how it will keep you safe at your next appointment.
How Your Shoes Can Carry The Virus
The primary way COVID-19 spreads is through nasal droplets in the air. However, these droplets can land on surfaces where the virus can remain active for days. Every time someone coughs or sneezes, they may be spraying some of these droplets onto the floor, which are then transferred to your shoe when you step on them. From then on, any time you touch your shoe there's a chance the virus could spread to your hand and then to your mouth.
It's also important to remember that your shoes are going to be making contact with different surfaces that are touched by many other people's shoes. Each one brings a new set of germs from another location, so precautions need to be taken in order to prevent your shoes from accidentally spreading the virus.
The Importance Of Shoe Coverings
If you see your dentist walking around with what looks like plastic bags around their feet, don't be alarmed. They're just wearing shoe coverings to protect you. These protective items prevent particles from collecting directly on their shoes while treating patients. After each appointment, they can change the coverings along with any other single use protective gear they are wearing to help get rid of any germs from the previous patient.
Additional Protective Measures
Your dentist's commitment to keeping you safe from COVID-19 goes beyond keeping their feet covered. Since re-opening, many practices are implementing new protective procedures. Some of these include:
Letting patients wait in the car prior to their appointments
Reducing the number of daily patients to provide more time for disinfection procedures
Utilizing additional protective equipment such as N95 masks and face shields
Installing advanced suction technology to prevent the release of aerosols during treatments
Adding air purifiers to treatment rooms to filter out germs
Keeping patients safe from COVID-19 requires action from head to toe. Shoe coverings provide another layer of protection for both you and the dental team during your treatment experience.
About the Author
Dr. Caroline Salib completed her dental degree with honors at Case Western Reserve University in 2008. Soon after, she completed a general practice residency at St. Elizabeth Health Center in Youngstown, Ohio. She knows that receiving dental care can feel exceptionally stressful during these unusual times. Her office has implemented numerous new procedures to help patients feel more confident and safe while being treated. If you'd like to know more about how she can help you with your dental issues while avoiding COVID-19, you can reach her through her practice's website or at 440-885-5354.
Comments Off

on Why Your Dentist Is Covering Their Feet While They Work
No Comments
No comments yet.
RSS feed for comments on this post.
Sorry, the comment form is closed at this time.