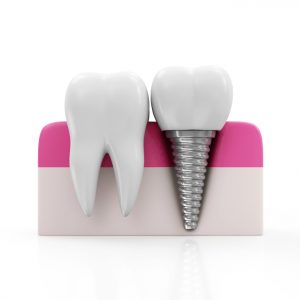 Missing teeth can put a damper in anyone's smile. It's an embarrassing thing for many people to deal with and can become a major health issue down the road. How long it takes for diseases to develop, time will only tell. What you should know is that at some point a disease will develop and will cause major problems for the rest of your mouth. You see, the open spaces left by missing teeth aren't just unfortunate to look at – they can alter the functionality of your smile as well as invite all sorts of harmful bacteria to the exposed area.
We're here to tell you that you can fix missing teeth for good with dental implants. They're the cost-effective and comfortable alternative to past missing-teeth treatments like dentures and bridges. When you come to our office in Parma Heights, OH, you'll be treated to some of the top restorative dentistry services available. Missing teeth are nothing to laugh about, which is why we're committed to bringing you a smile that's gorgeous and functions the way it should. We have dental implants Middleburg Heights, Strongsville and other residents can enjoy.

Dental Implants Can Change Everything
If you currently suffer with missing teeth, we know the pain you feel. We can't tell you how many missing-teeth cases we've dealt with, but what we can tell you is that they've all received comfort via our restorative dentistry services. Most often, dental implants are what we use to fix missing teeth. They're a permanent solution for missing teeth that improve your smile's overall appearance and functionality. Even menial tasks like eating and speaking are vastly improved when you get a dental implant.
The process requires surgery but after a few weeks you'll start to see the benefits. They're comprised of a titanium post that is inserted into your jaw bone. After some healing time and waiting for the jawbone to "accept" the post, a temporary crown will be placed and soon after, a permanent crown will be all that's left. You'll be amazed at the results and how well it blends in with the rest of your teeth. We can help pick a shade of tooth that is seamless.
Are You a Candidate for Dental Implants?
Though dental implants are the preferred choice for missing teeth, they unfortunately aren't for everyone. There are some variables that have to be considered. Dr. Khramoy will examine your mouth to see if it can properly support dental implants. Good bone jawbone structure is one of the requirements for receiving a dental implant. Others include having healthy teeth near the missing tooth and patients that are not suffering from gum disease or another ailment that would leave your smile's structure in dire straits. We'll thoroughly examine your mouth and decide if dental implants are right for you.
Schedule an Appointment
If you think it's time to take care of your missing-tooth problem, we're ready to help. Our Parma Heights, OH office can handle any dental implant needs you may have. Let's see if you can become our next candidate for dental implants, 44130 residents!