July 26, 2019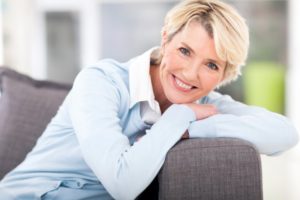 Did you know that at least 120 million Americans are missing at least one tooth? If you're missing teeth, you may be familiar with some of the ways they affect your day-to-day life. This problem can cause lack of confidence, ability to smile, and trouble with speaking. However, there are even more serious oral health issues that can occur if your missing teeth aren't replaced. In fact, even just one lost tooth can lead to severe oral health problems, including additional tooth loss. Keep reading to learn more about these hidden dangers and why dental implants are the best replacement option.
What Problems are Caused by Missing Teeth?
Lost teeth can put glaring imperfections on your beautiful appearance, but they also lead to serious health problems. Your teeth rely on each other for support, so when you lose even just one tooth, it can cause your remaining smile to shift. This will not only make oral healthcare harder, but it can cause extra wear and tear on your teeth. Additionally, missing teeth cause your jawbone to deteriorate. This occurs because it is no longer receiving the stimulation it needs from your tooth roots to stay healthy and strong. As your jawbone deteriorates, your teeth lose their firm support, which can cause additional tooth loss.
What's the Best Replacement Option?
While receiving any replacement is better than none at all, dental implants set themselves apart from other solutions. Dental implants are small titanium posts that are designed to act as artificial tooth roots. Titanium is biocompatible, so when dental implants are surgically placed in your jaw, they permanently bond to your bone. This unique process leads to a handful of advantages that you can't get with any other replacement. These benefits include:
Health: Dental implants preserve the health of your jawbone after tooth loss.
Strength: Rooted in the jaw, dental implants allow you to chew through a varying diet, which also leads to better nutrition.
Longevity: Dental implants can last for a lifetime with proper care.
Confidence: You can laugh, grin, speak, and eat in public with the confidence of knowing that you have a strong, beautiful, and secure smile.
Am I a Candidate for Dental Implants?
The best way to know with certainty if dental implants are right for you is to schedule a consultation with your dentist in Parma Heights. They will examine your mouth closely before making the right recommendation based on your oral health, missing teeth, and jawbone.
If it sounds like you could benefit from dental implants, contact your dentist today to get started on a complete, beautiful, and strong smile.
About the Practice
At Advanced Dental Center, Dr. Glenn Shtarkman and Dr. Caroline Salib are a team of dentists who combine their education with technology to provide an exceptional experience for their patients. Trained in the placement and restoration of dental implants, Dr. Shtarkman can complete the whole process under one roof! For any questions, they can be contacted through their website or by phone at (440) 885-5354.
Comments Off

on Missing Teeth: Hurting More Than Just Your Appearance
No Comments
No comments yet.
RSS feed for comments on this post.
Sorry, the comment form is closed at this time.