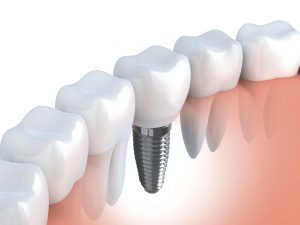 Have you ever noticed that the anticipation of a dental procedure is usually much worse than the actual procedure turns out to be? That may be because most patients don't know in advance exactly what's involved in the procedure they're about to have. Just knowing can be reassuring. For example, if you're about to have dental implants in Parma Heights to replace a missing tooth, then you be having anticipation jitters. Dr. Khramoy and the team at Advanced Dental Center want to put those jitters to rest. Read on to learn more about your dental implant procedure.
The Dental Implant Process
Firstly, you will meet with Dr. Khramoy who will examine your teeth and gums and make sure there is sufficient bone density in the location where your implant will be placed. This is key because the security of the implant is dependent on your having enough bone volume to hold it in place.
Then, at the initial appointment for your dental implant, Dr. Khramoy administers a local anesthetic to the site and carefully drills a pilot hole in your open tooth socket. This hole helps to guide the implant, which is a small screw made of the biocompatible metal titanium, into its proper location in your jawbone. Once the implant is placed, gum tissue is secured over it and a protective cover is attached.
Dental Implants in Strongsville
For the next few months, a process called osseointegration occurs; the implant and surrounding bone tissue fuse together to become one, creating a relationship not unlike that between a natural tooth root and your jawbone. This bond creates a firm footing for the dental implant and encourages new healthy bone tissue to grow. With new bone growth, you avoid a common drawback of missing teeth as well as dentures or a crown and bridge—bone loss and a shrunken facial appearance.
Once you've completely healed and this process is completed, you'll return to Advanced Dental Center to have the final tooth restoration attached to the implant. If you received one implant, then an all-porcelain crown will restore your whole smile. If several posts were implanted to replace more teeth, then Dr. Khramoy will attach a bridge or denture.
For Dental Implants, Middlebury Heights Calls Advanced Dental Center
If you would like to learn more about the procedure for dental implants in Parma Heights, OH, contact us today. Our office is happy to serve patients from Parma Heights, Berea, West Cleveland, Brooklyn, Strongsville, Middleburg Heights and Lakewood with exceptional dental care.