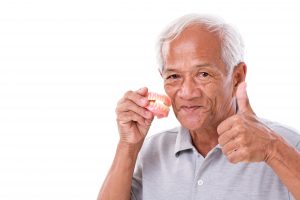 Dentures in Parma Heights are one of the marvels of modern dentistry. They can restore your smile and help you get back to speaking and eating normally. A well-fitting set of dentures is also comfortable and can last for years. To get the most out or your new set of pearly whites, you need to take good care of them. Here are a few friendly reminders to help you give your dentures the TLC they deserve.
Keep Them Moist
You should take your dentures out of your mouth for six to eight hours every day, usually when you're sleeping. However, you shouldn't just set them on your bedside table and call it good. Store them in a mild denture-soaking solution or a mixture of half-vinegar and half-water. If they have any metal attachments, use warm water instead.
Keeping your dentures moist when you're not wearing them is important because it helps them retain their shape.
Clean Them Every Day
Just like natural teeth, dentures need to be cleaned often if they're going to last a long time. Use a toothbrush or specialized denture brush to wipe away plaque and bacteria that build up on them throughout the day. You can use hand soap, a mildly abrasive toothpaste, or a special denture cleaning solution. Your dentist might have specific recommendations on how to care for your particular set of dentures, so be sure to follow this expert guidance.
Be Careful When You're Handling Them
Dentures are designed to put up with a lot, but that doesn't mean they're invincible. If you accidentally drop them, they may break. Therefore, when you take them out of your mouth to clean them, do it over a soft surface, such as a folded towel. You might also do it above a bowl of water.
When you set your dentures aside for the evening, be sure not to put them anywhere they might be likely to break. For example, you should keep them out of the reach of young children and pets.
Keep Your Mouth Clean
If you only have partial dentures, be sure to take good care of your remaining natural teeth. Brush twice a day and floss daily. If you have complete dentures, you still need to look after your gums. Massage them with a soft washcloth or toothbrush to wipe away any particles that may have accumulated on them. Your excellent oral hygiene routine will help to prevent bad breath and infections.
Visit Your Dentist
Even if you don't have any natural teeth left, you should still visit your dentist. A professional will look for any developing problems. They'll also make sure your dentures continue to fit you well even if your jaw changes shape over time.
Your dentures in Parma Heights help you lead a normal life — show them how much you appreciate them by keeping them clean and undamaged.
About Our Practice
The team of professionals at Advanced Dental Care is pleased to care for patients in the Parma Heights area. If you have any questions or concerns about how to care for your dentures, feel free to contact our office at 440-885-5354.