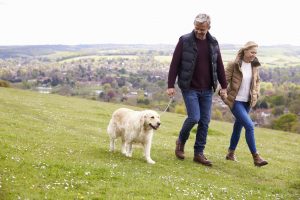 Dental hygiene practices and access to dentistry have greatly improved over the past century. Despite these advances in oral care, however, tooth loss remains a significant problem for the majority of adults. The majority of patients over the age of 35 are missing at least one tooth — and having one missing tooth increases the risk that you will experience more. Dentures in Parma Heights provide a wonderful solution for significant tooth loss.
At Advanced Dental Center, Dr. Vladimir Khramoy has been serving patients with high-quality denture care since 2002. Patients in and around Cleveland know they can turn to us for the best tooth replacement solutions!
What Are Dentures?
A denture is a set of prosthetic teeth attached to a gum-colored, acrylic base. A common solution for significant tooth loss, a denture is designed to look and function just like your missing teeth. A complete denture replaces all the teeth in the upper or lower jaw, while a partial fits in around your existing natural teeth like a missing puzzle piece.
A full/complete denture is held in place with natural suction. Denture cream or adhesive may provide additional stability. The partial denture is held in place with metal brackets or crowns affixed to your natural teeth.
How Long Do Dentures Last?
When your teeth are missing, you have also lost their stabilizing roots. Your jawbone will slowly degenerate without the stimulation provided by the teeth's roots. The denture will need to be adjusted every five to seven years to fix wear and tear and keep up with the changing shape of the jaw. Make sure you see your dentist annually so we can keep an eye on the health of your jaw and the stability of your denture.
Dentures that are held in place by dental implants are sturdier and can last for a lifetime. Dr. Khramoy will discuss your options in tooth replacement to determine whether or not you are eligible for an implant-retained denture option.
How Do I Care for Dentures?
Regular denture maintenance is important for your long-lasting tooth replacement. We will talk you through tips on how to keep your denture clean and functioning properly for as long as possible. In general, some things to remember about caring for your denture include:
Make sure you brush your denture daily

Brush your remaining natural teeth, palate, and tongue before putting your denture in

Handle your denture carefully and do not expose it to extreme temperatures

Soak your dentures anytime you are not wearing them to keep them from drying out

Get in touch with your dentist ASAP if your denture breaks, chips, or is otherwise damaged
Where Can I Find the Best Dentures Around?
Your dentist in Parma Heights can complete your smile with high quality dentures at Advanced Dental Center. If you are missing or on the brink of losing a significant number of teeth, don't hesitate to get in touch with Advanced Dental Center! Request an appointment today.