November 20, 2019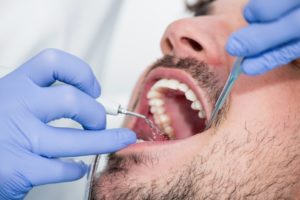 How long has it been since you last had a regular dental visit in Parma Heights? If it has been more than six months, you're missing out on a whole host of benefits and putting yourself at risk of contracting dental problems like cavities and gum disease. These checkups and cleanings ensure that your teeth and gums are in good condition. Let's talk about what happens at these appointments, and why they're so important.
What Happens at Your Checkup?
There are two parts to every regular dental visit: the checkup and the cleaning. First, at the checkup, your dentist will examine your teeth for cavities. X-rays may be taken to check for signs of decay in between the teeth. Then, your dentist will look at your gums for signs of gum disease. Next comes a thorough examination of your tongue, throat, face, and neck for any signs of oral cancer.
Your exam will also include a check for plaque and tartar on your teeth. Plaque is a sticky, colorless film of bacteria that constantly forms on your teeth. Regular brushing and flossing can get rid of it, but if you neglect your oral hygiene, plaque hardens into tartar, which can cause gum disease and tooth decay. It also can only be removed by a dental professional.
Finally, your dentist will turn you over to a dental hygienist to give your teeth a professional cleaning. They will use special tools to remove tartar from between the teeth and along the gumline. Your teeth are then polished to make them shine a little brighter.
Ultimately, these checkups are important because they can prevent dental disease, and diagnose oral health problems early enough that they're still fairly easy to treat. In the case of oral cancer, these preventive visits could even be lifesaving.
What to Do Between Dental Visits
Regular dental appointments are important, but so is taking care of your pearly whites in between visits. That includes being proactive and implementing the following steps into your daily life:
Brush twice a day with fluoridated toothpaste and a soft-bristled brush.
Floss at least once daily.
Rinse with antibacterial mouthwash every day to curb bad breath and control bacteria in plaque.
Regular dental visits are crucial because they keep your teeth and gums healthy. They can also help you avoid expensive and time-consuming treatments down the road by getting dental issues treated as soon as they arise. Take care of your teeth between visits, and your chances of contracting any dental disease should be low.
About the Author
Dr. Glenn Shtarkman became a Board-Certified dentist in 2005, and provides excellent care to the community of Parma Heights, OH. He is well-known for his gentle demeanor and touch during treatment. He places special emphasis on dental implants, cosmetic dentistry, and CEREC same-day crown technology. To book your next dental visit in Parma Heights, click here to go to Dr. Shtarkman's website.
Comments Off

on Why Regular Dental Visits Are Important
No Comments
No comments yet.
RSS feed for comments on this post.
Sorry, the comment form is closed at this time.