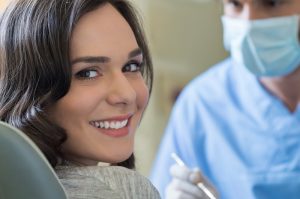 A dental crown is a common restorative procedure that brings back the strength of a weak or damaged tooth. It is a customized restoration that is placed directly over a damaged pearly white — giving your smile the royalty treatment it deserves! Keep reading to learn when and why we would recommend a dental crown in Parma Heights, and how to maintain your new restoration after it's been expertly applied.
Reasons You May Need a Dental Crown
Placing a crown is a routine oral procedure, but it is not something we prescribe casually. As a treatment that restores the form and function of an affected tooth, the dental crown may be recommended for a variety of reasons. Some of the most common situations in which we would opt for placing a dental crown include:
To fix a broken tooth

To restore a decayed tooth when there is not enough healthy enamel for a filling

To bring back the strength to a weak tooth (for bruxism patients)

To make cosmetic improvements to severely damaged front teeth

To increase the size of an unnaturally small tooth

To replace an old or malfunctioning filling

To replace a missing tooth (when retained by a dental implant)
How to Take Care of Your New Crown
Now that you have a new crown, taking excellent care of it is important for ensuring that it lasts for as long as possible. With proper maintenance and routine visits to your dentist in Parma Heights, you can usually expect a dental crown to last for 20 years or more.
While your dental crown cannot develop tooth decay, the teeth around it can — and your gum tissue is always vulnerable to infection and gum disease. Plaque and food particles may collect at the top of the crown, so be extra vigilant when you clean in this area. Continue to brush your teeth for two minutes, after each meal or at least twice daily, and floss between your teeth once a day. You may want to pick up an interdental cleaner to make cleaning around the crown easier.
You should also visit your dentist as recommended, with routine checkups and cleanings occurring at least every six months (or more if needed). This routine preventive care will help to ensure that we are able to catch any potential issues with your crown as soon as they develop to provide care ASAP.
Follow these steps and your new restoration should last for years and years to come. If, however, you do experience a problem with your crown, do not hesitate to get in touch with us as soon as you can. We'll get to the bottom of the issue and provide an effective solution for your unique smile!
Meet the Dentists
The team at Advanced Dental Center provides comprehensive services from the comfort of a state-of-the-art dental practice. If you are in search of a "dentist near me" to care for your and your family's smiles, look no further! Go ahead and contact the office today by calling 440-885-5354 today.