December 3, 2018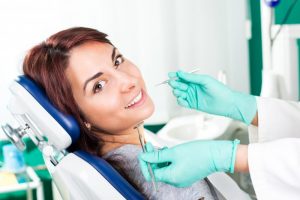 Seeing a new dentist can cause anxiety and stress for many people, but these visits are important. Although it may not be your most favorite appointment on your calendar, your first dental visit to a new practice is important to make. If you feel anxious about your upcoming appointment, it can help to know what will occur when you're there. Keep reading to learn about the process of a typical first visit and why it's important to see your dentist in Parma Heights.
What Happens During a First Visit?
Your first dental visit will typically consist of 2 parts: a checkup and a cleaning.
Full Examination
During the checkup portion of your appointment, your dentist will give your mouth, head, and neck a close examination. They'll check your teeth and gums for any serious issues and give you an X-Ray to get an inside look at your smile. This is also the time when your dentist may check for oral cancer. This disease as well as other oral health issues are often hard to detect with the naked eye, which is why seeing a professional is necessary to keep your mouth healthy.
Cleaning
After your dentist gets to know your mouth a little better, you'll receive an expert cleaning. A dental hygienist will remove cavity and gum disease-causing plaque and bacteria as well as give your teeth a nice polish. Last but not least, they'll give your smile a floss and then you're on your way with a great looking and feeling set of pearly whites.
Why is Seeing Your Dentist Important?
It is recommended to see your dentist every 6 months to keep your oral health in the best condition possible. Of course, you should have a good brushing and flossing routine in between visits, but dentist's appointments are crucial for preventing and detecting serious issues.
Tartar, one of the main causes of gum disease, can only be removed by a professional. Gum disease is linked to higher risks of cardiovascular disease, diabetes, and stroke. Additionally, your dentist has a trained eye for catching issues like cavities and oral cancer to ensure that your oral health is in tip-top shape.
Now that you know more about your first visit and why it's important, do you have an appointment made? End the year right by getting in to see your dentist for a beautiful and healthy grin.
About the Practice
Dr. Glenn Shtarkman and Dr. Caroline Salib are a team of dentists who have a passion for quality care. They know that seeing a new dentist can sometimes cause uneasiness, which is why they want you to know more about the process. They currently practice at Advanced Dental Center, and they can be contacted through their website or by phone at (440) 885-5354 for any questions.
Comments Off

on Your First Visit to a Dentist in Parma Heights: What to Expect
No Comments
No comments yet.
RSS feed for comments on this post.
Sorry, the comment form is closed at this time.