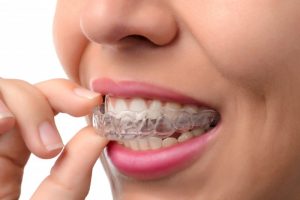 Are your teeth misaligned? It can really take a toll on your confidence when you're not satisfied with the appearance of your smile. If you're tired of hiding your smile in photos or when you meet someone new, it may be time to learn how Invisalign in Parma Heights can help you achieve a straighter smile.
What is Invisalign?
Invisalign is actually an innovative system providing clear braces in Parma Heights with the use of clear plastic aligners. The aligners are designed to fit snugly against your teeth so they're comfortable to wear. Because they are clear, they are virtually invisible.
How Long does Treatment with Invisalign Take?
Invisalign works best for restoring slight shifting of teeth and small misalignment issues. It is fast and effective when patients wear their aligners at least 22 hours each day and change them every two weeks.
Every case is different; however, most Invisalign cases take 9 to 15 months to complete.
What are the Benefits of Choosing Invisalign?
Besides providing discretion with clear plastic aligners, Invisalign offers other benefits for patients such as:
Aligners are comfortable to wear and there are no worries of the discomfort that brackets and wires can cause.
Aligners can be removed for meals so there are no dietary restrictions with Invisalign.
Brushing and flossing your teeth is easy since aligners can be removed.
What is the Cost of Invisalign?
The cost of orthodontic treatment varies with each patient and is determined by your cosmetic dentist in Parma Heights during your consultation. Invisalign treatment is typically comparable to traditional orthodontic treatment in most cases, and you may have some coverage for it if your dental plan has an orthodontic benefit.
Contact your dentist's insurance coordinator to learn if you have coverage for Invisalign with your dental insurance. Companies like Care Credit also offer options to break the cost of Invisalign treatment into affordable monthly payments.
Are you ready to learn more about Invisalign and how it can benefit your smile? Contact your dentist today to schedule your consultation.
About Advanced Dental Center
Dr. Glenn Shtarkman leads a team of talented dentists and staff members dedicated to providing patients at Advanced Dental Center with the high quality dental care they deserve. Combining state-of-the-art technology like Invisalign with a gentle touch, this team exceeds patient expectations at every visit.
Would you like to contact Advanced Dental Center? We can be reached by calling 440-885-5354 or through our website.